At Chalet Caro we offer you a highly flexible service as we understand that you do not necessarily want to eat a big 3 course meal every evening, that you will probably want to try out some of the many fantastic restaurants that are only a short walk away, and then maybe have the odd quieter evening, maybe with a lighter home made meal before settling down to a cosy evening in in front of the log fire.
So we offer the chalet on a self catered basis, and then you can pay extra for only the things you would like…….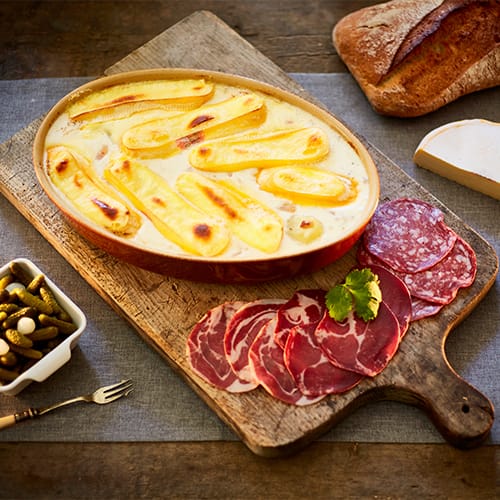 Tartiflette is the jewel of the Savoie food crown, an iconic mountain dish made from potatoes, bacon, onion and lots and lots of Reblochon cheese. Delicious, cheesy, iconic – we love Tartiflette and this is something you must try while you are in Meribel.
PRIVATE CHEFS
We are in Partnership with a small number of Professional Private Chefs who live and work in Meribel, and who we know and trust to produce delicious fresh and home cooked meals.  They have a wide repertoire of meals that they can prepare for you, and will cater to any special dietary requirements. You will be in control of the menu, and can discuss with them directly what you would like to eat, and what is within you budget.
Our chefs, subject to availability, can cook for you a 2 or 3 course evening meal, and in addition should you wish, they are often also available to cook for you at breakfast time and to prepare tasty cakes for tea time. They normally like to take booking for 6 days, but on occasion will cater for fewer days.
We ask that you only use our recommended chefs as they know the chalet and how the equipment works, and they have proved to us that they cook to the high standard that we know our guests will expect.
Our Private Chefs are in high demand so we highly recommend that you book them as soon as you can.
Please contact us with your requirements as we will try to accommodate.
DELIVERED MEALS
This year we are in partnership with HUSKI, the food & drink delivery company made for the mountains. You ski/board/apres/shop, and they deliver to Chalet Caro, so that you meal is ready and waiting for you to cook when you feel like it, or leave until another day should you decide on a last minute meal out.
Huski meals include locally made dishes with big generous flavours, as well as oven-ready meals from the UK's COOK.  Most are frozen so they will keep until you want them. In addition to their main dishes or 3 course meals they also have Vegetarian and Gluten Free menus, as well as a selection of starters, canapes, deserts, cakes and breakfast ingredients, and drinks. They even do special childrens menus.
TAKEAWAY
The Brewers Den and Smokehouse
Tel: +33 (0)4 79 00 57 51
Directly across the road from Chalet Caro is O'Sullivans – Sullys Bar, and The Brewer's Den & Smokehouse Restaurant.  The Smokehouse now offers a collection and delivery service which includes its 13-hour smoked pork shoulder in hoisin sauce, angus beef burger and its marinated grilled chicken, as well as a vegan bratwurst.  You can also order your drinks, including from an extensive range of craft beers.  Brewers Den website
Le Refuge
Tel: +33 (0)4 79 08 61 97
If its a takeaway pizza you fancy then try Le Refuge, which sadly doesn't have a website, but you cant miss it.  Its in the town centre on the left as you walk down towards Chaudanne – Route de la Montee,  
Tsaretta Spice
Tel: +33 (0)4 79 08 51 26
Takeaways can also be arranged. See our Meribel Restaurant page for more info
La Flambée
Tel: +33 (0)4 79 00 31 70
Takeaway Pizzas are also available. See our Meribel Restaurant page for more info
LOCAL PRODUCE
Meribel is blessed with several shops selling local produce. Click here for our recommendations.